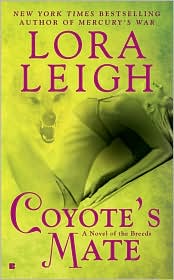 Book Information
Publisher: Berkley Sensation
Publication Date: February 2009
ISBN-13: 978-0425226339
MSRP:$7.99
Format: Mass market paperback
Available from Amazon, Borders, Barnes and Noble and Powell's

Del-Ray Delgado is a genetically altered rebel known as Coyote Ghost. Created in a lab, Coyote breeds are manipulating, cunning and a little on the paranoid side. The ultimate killers, the Coyotes have decided to take their fate into their own hands and escape their creators.

Anya Korbin is only 16 years old when she pleads with Del-Ray to help free the Coyote women trapped in her father's lab. For 6 years, she and Del-Ray plot the escape with Anya's only plea that her family not be harmed. But Coyotes can't be trusted and Del Ray is no exception. He has plans for Anya. Plans that include claiming her as his mate whether she agrees or not!
I am normally a big fan of romance novels and picked up Lora Leigh on the recommendation from my local book seller. Leigh is definitely an imaginative and popular writer - she makes it on the New York Times Bestseller's List pretty often; however, Coyote's Mate wasn't my cup of tea. Instead of Anya coming off as a smart, independent woman in her own right, she came of as a selfish, whinny brat to me.
The majority of the book deals with Del-Ray forcing Anya in a sense to marry him. Since the breeds are a mixture of human and animal, mating is more of a hormonal exchange instead of an exchange of vowels. But Anya petitions the Breeds council to basically get a restraining order against her mate for 1 year. The whole situation is just a bit too far-fetched to me. Del-Ray is in essence the King of the Coyotes and he is kicked out of his own home for the better part of a year!
I guess I wanted Anya to deal with the situation instead of running away from it. I much prefer heroines who use their brains to get what they want, not tears. So that being said, if you go for the angst filled romantic stories where the heroine wants to be swept off her feet but feels like giving into her desires makes her a weak person, this is the book for you. If you prefer characters who end up in sticky situations and must use their own brains and wiles to get out of them, you might want to pick up one of Leigh's other series.
xoxo,
Tissie