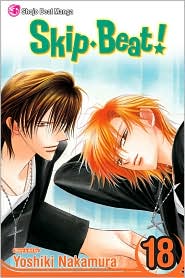 Book Information
Publisher: Viz Media
Publication Date: May 2009
ISBN-13: 9781421525983
MSRP:$8.99
Format: Trade Paperback
Available from Amazon, Borders, Barnes & Noble, Powell's
Kyoko followed her love Sho all the way to Tokyo to support him while he made it big as a J-pop idol. But the second Sho became famous, he cast her aside. Kyoko has vowed revenge and will stop at nothing to make Sho pay for breaking her heart!
In volume 18 of this shojo saga, Kyoko has been given another Love Me Section job. The pink uniform is back! However, Kyoko's newest assignment is intent on making her cry. Koo is a Japanese actor turned Hollywood star who is back in town. Koo played the origianl Katsuki in Dark Moon. He and Tsuraga-san seem to have a dark and murky past. Is Tsuraga really his son Kuon? Something is definitely up as Koo is using Kyoko as bait to get to Tsuraga-san...
I love
Skip Beat
! Most long running shojo series get bogged down with filler episodes; but,
Skip Beat
has been nonstop action since volume 1. The characters have depth and Nakamura-sensei has been able to make every chapter fun and exciting. Even the serious moments are broken up with enough comedy and action that the series maintains its dark undercurrents of revenge and its romantic hijinks at the same time.
I don't want to wait 3 months for the next volume to come out!!!