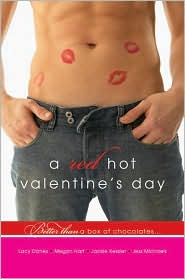 Book Information
Authors: Lacy Danes, Megan Hart, Jackie Kessler and Jess Michaels
Publisher: HarperCollins
Publication Date: January 2009
ISBN-13:

978-0061689390


MSRP: $13.99
Format: Trade Paperback
Available from Amazon.com, Borders, Barnes and Noble, and Powell's
I normally don't buy anthologies because I feel 80 pages isn't enough flush out a really good story. However, I am huge Megan Hart fan. So I figured I would give this book a try while I wait for her next full length novel.

A Red Hot Valentine's Day

is a mixed bag with a few good stories and a few that were just okay.
In

Get There

, by Megan Hart, Edie and Ty are long distance lovers who will finally be together on Valentine's Day. To pass the time until their reunion, they swap love letters detailing erotic journeys of parted lovers.
Eternal damnation has never been so sweet as in

Hell Is Where the Heart Is

by Jackie Kessler. The succubus Jezebel is about to get a very special Valentine's Day gift from her demon lover.
In

Torn Desires

, by Lacy Danes, Lady Sophia finds that her neighbor and lover Lord Quinton has been toying with her affections when he hires a matchmaker. But to Lord Quniton's displeasure, it is Lady Sophia who is introduced to her dream lover.
Finally, the Earl of Atleigh has less than one week to prevent the woman he loves from marrying another man. The name of the game is seduction in Jess Michaels's regency romance

By Valentine's Day

.
By far, Hart and Michaels have the strongest stories of the bunch. Danes's

Torn Desire

was a little too light on the plot and too heavy on the sex for me to really enjoy it. And Kessler's story was gruesome and strange to say the least.
This is definitely a book to buy from a used bookstore or check out from the library. If, like me, you are a fan of one of the individual creators, the 80 page novellas are a nice read while you are waiting for the next full length book. But overall, this one isn't a keeper for the shelves. Or if you are looking for new authors to read, this one might be a great preview of their styles before you commit to reading a 400+ page paperback . I am definitely going to look up other works by Jess Michaels.